Dr. Phil Jamieson
President
The Rev. Philip D. Jamieson, Ph.D. is an ordained elder in the United Methodist Church and a member of the Tennessee Annual Conference. After serving local churches for eleven years, he taught pastoral theology at the University of Dubuque Theological Seminary. There, he co-developed the course, "Ministry and Money" with his wife, Janet. Since publishing their book by the same name, the two of them have travelled extensively, offering seminars to clergy and lay leaders regarding the critical nature of financial ministry. Phil became President of the United Methodist Foundation for the Memphis and Tennessee Annual Conferences in 2013.
Phil holds degrees from Taylor University, Asbury Theological Seminary and Boston College. He is married to Janet and they are the parents of two children. They are the coauthors of Ministry and Money: A Practical Guide for Pastors (Westminster/John Knox, 2009) and the 2012, 2016 United Methodist Guidelines for Finance Committees (Abingdon, 2012). Phil is also the author of The Face of Forgiveness: A Pastoral Theology of Shame and Redemption (IVP Academic, 2016). For general questions about either the Foundation or Development Fund, please contact Dr. Jamieson.
Email:
phil.jamieson@umfmtc.org
Phone: (615) 259-2008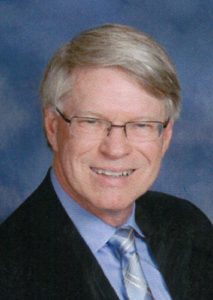 David Comperry
Field Staff Representative
David P. Comperry served 45 years as a pastor in the Tennessee and Memphis Conferences of the United Methodist Church. The son of a Methodist pastor, David grew up in Middle Tennessee and began his ministry in the Tennessee Conference before transferring to the Memphis Conference. He received his B.A. from Vanderbilt University and his Master of Divinity and Doctor of Ministry degrees from Emory University. David has served in a variety of positions in both Annual Conferences, including chairing the Memphis Conference Board of Ordained Ministry, and has served as a delegate at three Jurisdictional Conferences and alternate delegate to General Conference twice. David and his wife, Nancy, have two daughters, Cindy Comperry, who lives in Nashville, and Betsy Little, who lives in Jackson with her husband Brad Little and their children, Rowan and Ben.
For questions about the Foundation or Development Fund, please contact Dr. Comperry.
Email:
dcomperry617@gmail.com
Phone: (901) 417-1773
Tiffany Ford
Administrator for the United Methodist Development Fund
Tiffany has three children and has worked for the Methodist Church in various positions for over 20 years. She has worked for the United Methodist Development Fund since February of 1999. Tiffany can answer any question you might have regarding investing or borrowing from the Fund.
Email:
tiffany.ford@umfmtc.org
Phone: (615) 259-2066
Sara Finger
Administrator for the United Methodist Foundation for the Tennessee-Western KY Conference
Sara is a graduate of Murray State University and grew up in churches in the Tennessee and Memphis Conferences. She is the daughter of Tim and Anita Pafford; Tim is a retired local pastor in the Memphis Conference. She is married to Jarrod Finger, a structural designer, and they have a son, Michael. Sara brings a banking, customer relations, sales, and lifelong relationship with The United Methodist church into this position. She comes to the Foundation from an area bank, having most recently been a Branch Operations Manager. She has been with the UM Foundation since December 2009. For questions about endowments or investing with the Foundation, please contact Mrs. Finger.
Email:
sara.finger@umfmtc.org
Phone: (615) 259-2008